There's a painting by early 20th century Norwegian artist Nikolai Astrup of his wife, Engel, picking rhubarb. She's wearing a pretty spring dress of blue and white and the bend of her back is echoed in the line of the snow-licked mountains in the distance.
Cherry trees are in blossom and the grass is vividly green as she bends over the giant, undulating leaves and with one hand twists the long red stem at its base, demonstrating perfect rhubarb harvesting technique.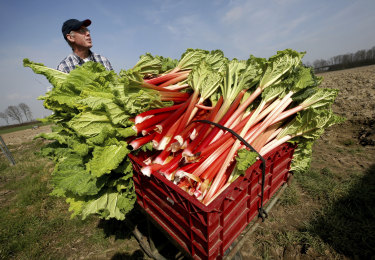 Vegetable farmer Herbert Wilms drives baskets full of harvested rhubarb stalks out of his heated foil tunnel for further processing in Kaarst, Germany.Credit:AP
The big leaves seem to embody all of spring's vegetative power. After months and months of deep snow, rhubarb's vivid liveliness must have been pure joy to the Astrups, who lived on the shadowed side of a steep hill above Norway's largest lake, and only felt the direct rays of the sun from March until September.
No one has much to say about whether Engel, Nicolai and their eight kids had stewed rhubarb on their porridge in the mornings, but they were famous for their rhubarb wine.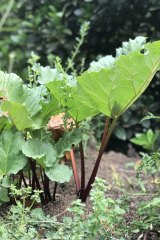 Rhubarb needs sun in Sydney.Credit:Fairfax Media
No doubt that's what Astrup was planning when he put in his first nursery order, which included 100 rhubarb crowns, of 10 different varieties. His favourites included 'Victoria', which is what my grandmother grew in her rhubarb patch. It is still available and does well in most Australian climates.
Though 'Victoria' is tasty, its stems shade to green at the top. Sydney's gardeners now prefer the deep ruby-red varieties, especially those that don't go dormant in our mild winters, such as 'Sydney Crimson' and container-friendly 'Ever Red'.
Now is the time to order rhubarb crowns from online suppliers, such as Green Harvest, Diggers and Tesselaar.
To grow rhubarb, you need an open sunny or lightly shaded position, ideally not blasted by hot afternoon sun in midsummer; an east-facing bed is ideal. Allow at least half a metre for each plant, planting a crown for each rhubarb fan in the household. If a pot is your only option, make sure it's a big one.
Rhubarb likes a rich soil and will stay in the same spot for years, so dig in plenty of compost and manure before planting.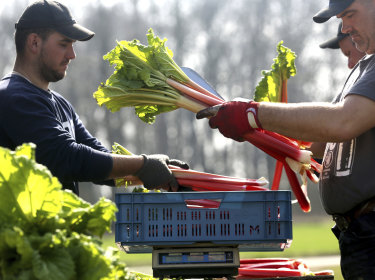 Rhubarb stalks are packed into sales baskets and weighed by harvest workers of vegetable farmer Herbert Wilms after the leaves have been cut off in Kaarst, Germany,.Credit:AP
Don't let plants dry out over summer and be generous with small amounts of organic fertiliser applied often. Harvest sparingly if at all in the first year to allow the plant to develop. Follow the harvesting technique shown by the Astrups, twisting the leaf off at the base, rather than cutting and leaving a stub, which could introduce disease to the crown. Leave a few stems in the centre of each plant to maintain its vigour.
I can see the appeal of rhubarb wine in a Norwegian winter, but in sunny Sydney I prefer my rhubarb stewed to top yoghurt, baked in crumbles and pies, lightly blanched and enfolded in a crostata, or even pickled. Just don't eat the leaves, which will make you sicker than too much rhubarb wine.
Most Viewed in Lifestyle
From our partners
Source: Read Full Article