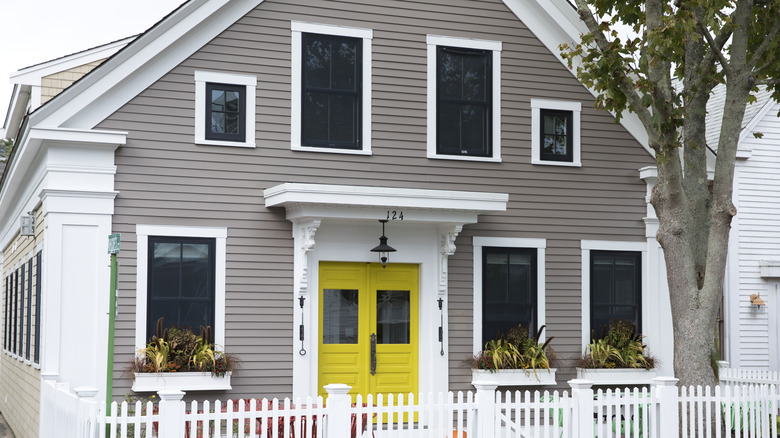 With summer finally here, is it time to bring some new life to your outdoor spaces? It might well be. If the walls, door or even just the fence around the yard could benefit from a lick of paint, there's no time like the present to get started and make your place look great, turning it into your dream!
However, which colors are best to go for? And how do you decide? It's a question that it's easy to disagree on, with so many different options, but some will definitely be a better fit than others. To that end, we've brought together some of the trendiest paint colors for you to use in outdoor spaces this summer. From lush, vibrant green to warm melon shades, there's something here to suit every taste, making your home and yard certain to be the envy of the neighborhood — and you don't need to be the Property Brothers to do so. Which colors will you choose?
Try bright yellow or orange outside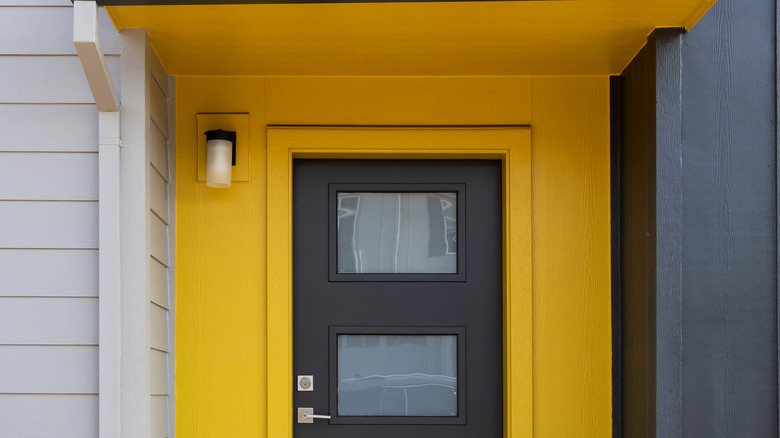 Yellow is a cheerful color and it screams summer. Per VeryWell Mind, it's a color that stands for the sun, as well as brightness, energy and warmth. However, they mention that it can have negative connotations too — of anxiety and stress. For this reason, a bright yet warm yellow can be effective — you may want to paint your external walls yellow alongside white window panes, or use a little yellow outside on a less overwhelming scale. You might decide to try Caramelized Pears or a similar shade for a warm, summery effect that isn't too bold, but still plenty luxurious. 
For something a little more vibrant, you could try Cantaloupe instead. It's not as bright and "out-there" as most shades of orange, being a little softer and lighter. Per Good Housekeeping, it's a surefire way to make your space look fresh and ready for summer, and if you want to kill two birds with one stone, you'll love that it looks great inside too. 
Go green for a fresh feel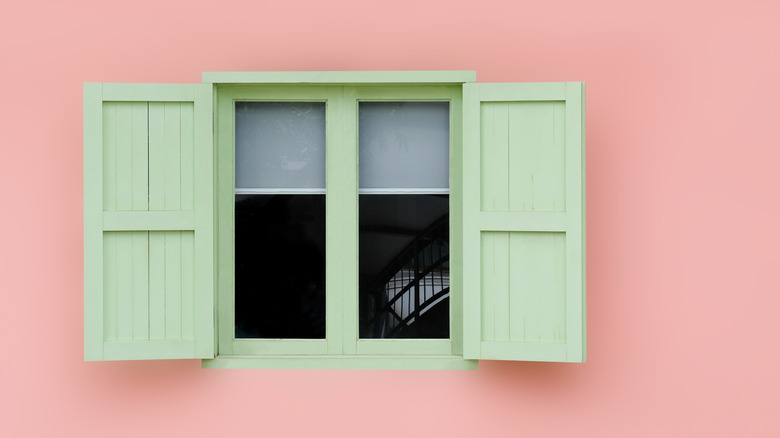 Everything grows in the summer, so as green is the color of nature, why not shake up your outdoor space with some vibrant green? Good Housekeeping describe lush green as being a great choice as it evokes thoughts of fields and forests alive in the summer months, and makes a great impression. Being a cool color, too, it won't feel too overpowering and overwhelming when the sun's out and the weather's hot (via VeryWell Mind). 
Something you may want to do is to couple together a lush, vibrant green along with one that's a little more earthy. Per Allura, earthy greens and browns are fast rising in popularity this year, and while you might not want to use too much brown in the summer, an earthy green could be a great fit. Of course, it's worth thinking about the longer term too — earthy colors will look great in the autumn and beyond too, with this shade of green looking good all year round. 
Bold blues and reds can look great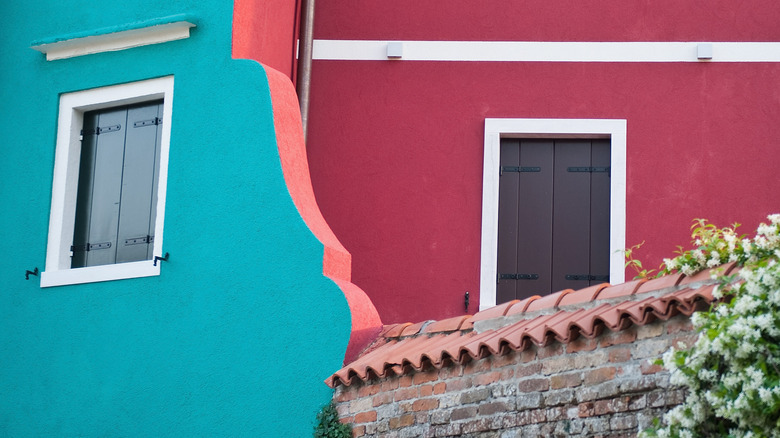 If you've always wanted to try something a bit bolder than the colors you usually opt for, why not take the plunge and do it? After all, you don't have to give the entire exterior of your house this exciting new shade — you can incorporate it here and there and see what you think. 
Where better to start than with blue? While softer blues and green-blue tones can be appropriate for summer, we can't forget about a classic, deep blue — it's the perfect shade for summer. Good Housekeeping suggest using it as an accent color indoors, perhaps in the kitchen area, but it would be good outside too, and the perfect way to make your backyard look a little more exciting. 
Then there's red. It's a bit of a daring color, signifying power and passion, and for this reason you might not want to make absolutely everything red (via VeryWell Mind). The excitement and energy offered by the color can bring new life to your surroundings, and it's certainly sure to make an impression. However, it's up to you. If you would prefer a gentle yellow or a lush green instead, go ahead and get started with it!
Source: Read Full Article